Map of the valborg celebration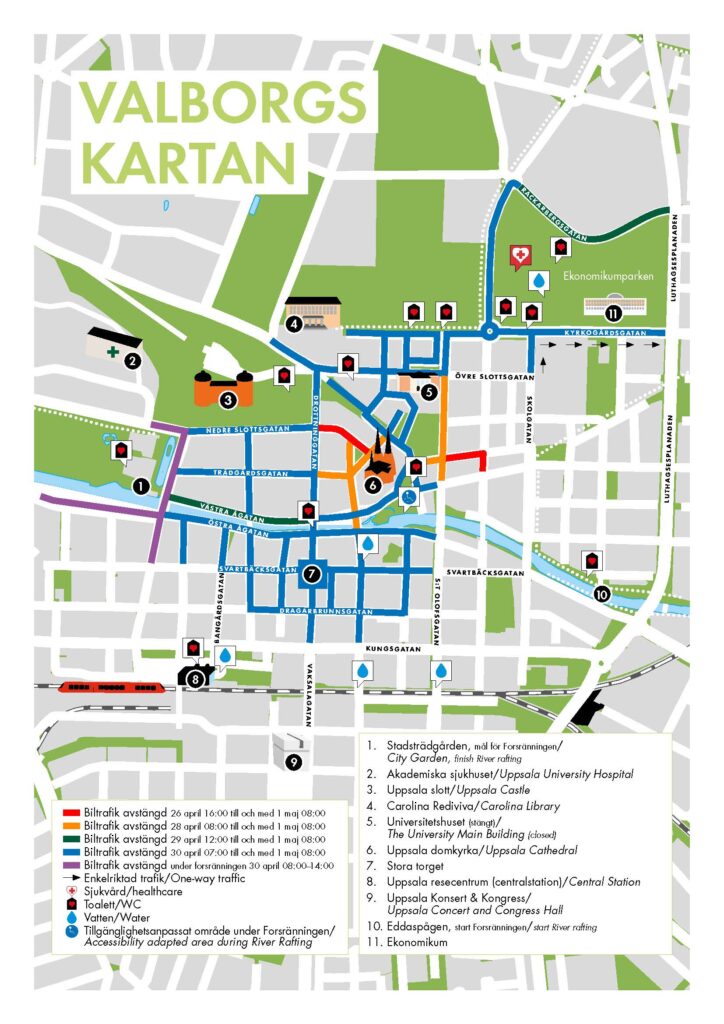 We celebrate again!
Celebrate Valborg (Walpurgis) and the arrival of spring in Uppsala. Our website is updated regularly with tips and advice on how you can have the best experience possible. Have fun – and take care!
---
3/2-2022: Valborg (Walpurgis) 2022
On February the 9th The Government announced that all restrictions will be lifted. We are now looking forward to celebrate a joyful and traditional Valborg (Walpurgis) in Uppsala.
We are in the process of planning this year's event. Of course, we're continuously in contact with authorities to evaluate the ongoing pandemic. You as a visitor must be able to take part in a safe, tidy, and safe Valborg (Walpurgis) celebration.
We will return with more information continuously in the spring.
---
16/4-2021: Ekonomikumparken, Observatorieparken and Stadsträdgården closed
The situation with the corona pandemic is still very serious with a high spread of infection and an extremely strained healthcare. To avoid congestion and to reduce the spread of infection, the Municipality of Uppsala has decided to temporarily close Ekonomikumparken, Observatorieparken and Stadsträdgården from Thursday 29 April 12.00 to Saturday 1 May 9.00. The decision has been made in consultation with the region's Infectious Disease Doctor and the Swedish Public Health Agency. Read the full press release here (in Swedish).
---
22/1: No traditional Walpurgis Night in Uppsala 2021
Walpurgis in Uppsala
A collaboration
Since a few years back, about forty organizations in Uppsala have a close collaboration with the aim of making the Walpurgis celebration safe and clean. Authorities, companies, associations and student nations come together and take joint action both before and during the Walpurgis week.
Read more